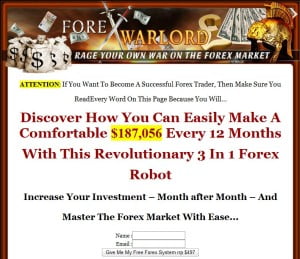 Forex Warlord is a new Expert Advisor, a system that promises to make you consistent profit by trading Forex automatically. The proof it provides as usual looks good – that's pretty standard. But the way that this robot tries to be unique is by combining 3 different systems in one EA. The idea is to achieve a better reliability.
Forex Warlord can work in three modes – Scalper, Day Trader and Long Term Trader. These modes enable traders to choose one that they feel most comfortable with.
If it succeeds, only the results will tell. What I don't like about this software is that it doesn't really provide much details about it, even the most important ones such as risk/reward ratio, typical profit targets and stop losses. Granted this information will not change the way Forex Warlord works, it is still good to know the risk better than just trusting the manufacturer.
Even though the investment is relatively small – a price tag of $97 for 3 systems in 1 makes it quite affordable. And there's always the 30 day money back guarantee, in case it fails to work.
Some more facts:
Cost: $97
Guarantee: 30 days 100% Money Back
Currencies supported: All
Updates: Life-time free
Related Reading