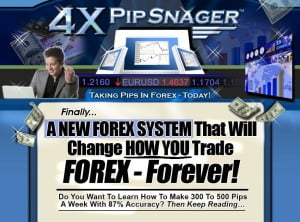 4X Pip Snager is a manual Forex trading system for those who want to get their hands dirty and get results faster. The package actually contains two systems – scalping and intraday swing trading system. Each system is a set of rules and indicators which you use to manually open trades with provided stop loss and take profit.
The scalper system works on a 1 minute chart where essentially you get a signal to open a trade and wait for the pip gain to close it (or to cut the loss). The demonstration on the Pip Snager website shows the process in action. The average pip gain of the scalper is 10 to 30 pips.
The intraday system is a little bit more interesting. It works on a 5 minute chart and looks for trend swings. The typical parameters are stop loss at about 25 pips, and up to 50-100 pips take profit. The risk/award ratio of the system is then about 0.5-0.25 which is a good ratio. The rate of profitable trades is said to be 87% which doesn't screw up the good risk/award ratio. The numbers show this system to be a viable trading system, even if it's a short term strategy.
Overall, 4X Pip Snager looks like a good manual trading system for intraday traders.
Some more facts:
Cost: $97
Guarantee: 60 days 100% Money Back
Currencies supported: EUR/USD
Related Reading