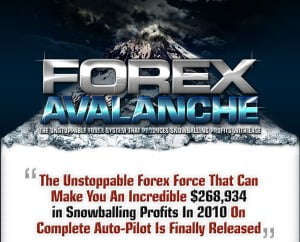 Forex Avalanche looks like any other fully automated Expert Advisor system. It works on Meta Trader 4, it's easy to install, it doesn't require supervision. It doesn't claim to use any AI or neural network technologies, or any other bells and whistles. But it promises to work.
So does it work? Looking at the proof that Forex Avalanche provides, which is to my big disappointment very obscure, it of course shows a profit at the end of the day from back-testing. It doesn't provide full statements so I can't tell how exactly it works, what stop losses and take profits it is using. But I can tell from the average loss and average profit trade that the risk/award of this system is greater than 2. That's really no good in the long run, to be honest.
Hence, I can't recommend this system from the proof it provides. I can't recommend against it either, again for the lack of proof. If you do decide to invest in it, keep in mind that in my opinion, it's not likely that Forex Avalanche will be profitable in the long run.
Some more facts:
Cost: $97
Guarantee: 60 days 100% Money Back
Currencies supported: All major pairs
Updates: Life-time free
Related Reading