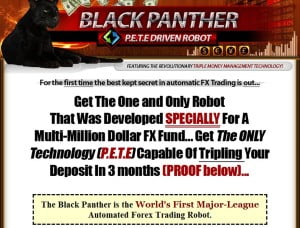 Forex Black Panther was originally created and ran on a multi-million dollar hedge fund and was later converted to work on regular computers. It was professionally developed for 2 years and is based on 2 trading strategies – P.E.T.E and M.D.P.A strategies.
The two strategies and advanced algorithms that allow to implement them enable Forex Black Panther to trade under very diverse market conditions – from trending to ranging markets.
The robot works on 4 currencies – USD, GBP, EUR and CHF (and their pairs). The system performs a multi-dimensional analysis across these currencies – a strategy that the author has been successfully using to trade for 6 years.
When it comes to risk and money management, the robot has 3 modes which work based on three separate algorithms. In addition to that, there's the advanced broker protection and full control over all settings that advanced users can tweak for better performance.
It looks like Forex Black Panther is equipped with all the bells and whistles an EA can possibly have. Of course, all the features are only worth as much as it can make profit.
The backtesting has a rather low drawdown, however it does bug me that the average loss is a little bit higher than the average profit trade – it's a sign that the risk may not be capped well enough. However, it is using a trailing stop which helps the issue. The live trading statement looks good for the most part, but is rather short and over a month old.
Some more details:
Cost: $97
Guarantee: 60 days 100% Money Back
Supported currencies: USD, GBP, EUR, CHF pairs
Updates: Free life-time updates
Related Reading