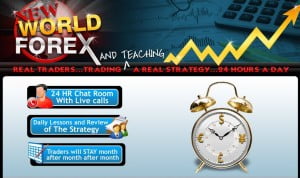 New World Forex is a trading course teaching a concrete Forex trading strategy. The course teaches traders how to trade by live examples and daily lessons.
The New World Forex service consists of two main parts – daily lessons and a traders' chatroom with live trade calls. As a student you will be able to follow the lessons and learn a profitable trading strategy as well as get tips when and how to trade in the chatroom open 24/5. The teachers in this program are real traders who will trade along as they teach.
The purpose of this course is to teach the beginners how to trade Forex from A to Z, as well as show them the profitable trades so they are not left completely on their own.
Additional details:
Cost: $297/month
Currency pairs supported: All major currency pairs
Guarantee: 1-week money back guarantee
Related Reading