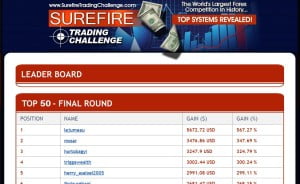 Surefire Trading Challenge is not a single Forex robot or course, it's a regularly held competition of Expert Advisors. Since 2008 it has held several competitions and is already well known in the Forex traders community.
Surefire Trading Challenge works in 2 rounds. In the first round the contenders run their EAs on demo accounts for 30 days – anyone can enter this competition. After the first round only top 20 EAs compete on live trading accounts and the top 5 winners are announced. The entire process of competition is transparent and monitored, anyone can see the live statements of the competing EAs.
After the competition ends, the top 5 EAs are released to the public for sale. This gives us an option to buy Forex trading systems that have a proven trading record tracked by a 3rd party. However, that doesn't not mean that a system will continue to perform as well as it did in the past during the competition.
Surefire Trading Challenge also offers a Traders Secret Library which is a membership with the access to last 8 competition winners, mentoring, webinars, forums with access to the developers of the winning EAs.
Other details:
Cost: $499
Currency Pairs Supported: All major currency pairs
Guarantee: 60-day money back guarantee by Clickbank
Related Reading