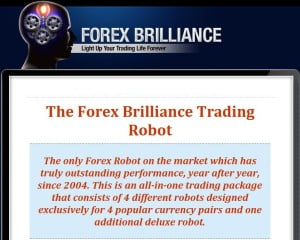 Forex Brilliance is a package of 4 robots each trading one of 4 major currencies – EURUSD, USDJPY, GBPUSD and USDCHF. These robots were developed and tested from ground up, and proved to make a consistent winning rate of 80% since 2004.
Forex Brilliance robots were developed with ease of use in mind, the authors have made all effort that the software worked with no human intervention except the downloading and installation.
The back-testing statements (such as this one for EURUSD) are similar for each robot and were run with the settings of 50 pip stop loss and 30 pip take profit. However, personally, I'd rather see the performance with an equal (at least) stop loss and take profit, otherwise it's likely to fail in the long run of live trading. Other than that, it looks good as far as the back-tests go.
Some more details:
Cost: $499
Guarantee: 30 days 100% Money Back
Supported currencies: EURUSD, USDJPY, GBPUSD and USDCHF
Related Reading