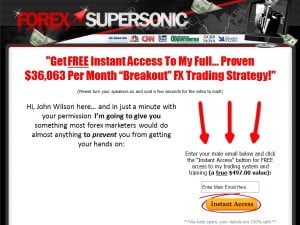 Forex Supersonic is a 100% automated Forex trading robot that according to the authors is simple but works.
What's different about Forex Supersonic is that they are giving away the exact strategy that is behind the software for free so you can examine it, test it and use it. The robot then picks it up and trades automatically.
The trading performance proof is rather scarce for this EA – there are only a few screenshots and a few excerpts from the statements. But to believe the proof that we do get, it shows an 80% winning rate with a 15% drawdown and a risk/award ratio below 1. Those are good numbers that would indicate a possibly solid strategy.
Besides the standard EA, there's also an upsell of an advanced EA, an EA for extra currency pairs and an advanced trading strategy.
More details:
Cost: $97
Guarantee: Clickbank's 60-day money back guarantee