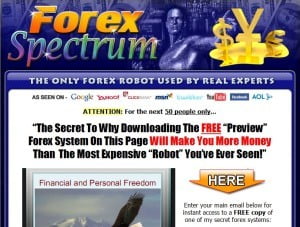 Forex Spectrum is a fully automated Forex robot (Expert Advisor) that according to its developers, simply works. Of course, all EA creators tell the same thing, the real performance is what really matter.
In addition to the Forex Spectrum EA there will be an option to get a signals software, an advanced EA, and a manual trading system.
The system is built on two algorithms for long term and short term strategies, has a built-in automated money management system and can trade under any market conditions. Other features are pretty standard – it trades all major currencies, doesn't require any minimum deposit, is easy to install and ready out of the box.
My pet peeve, however is present with Forex Spectrum as with many robots too. There's no cold hard proof on the website. Chart pictures and statement fragments (with blurred out trade details) is a very week proof (if you can call it proof at all), so once again all goes down to trusting the author and the 60-day money back guarantee.
Some more details:
Cost: $97
Guarantee: 60 days 100% Money Back
Supported currencies: All Major
Related Reading