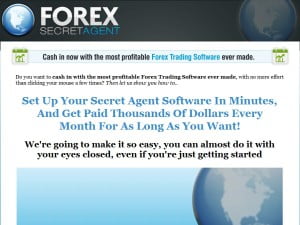 Forex Secret Agent is Forex signals software from the company that made Forex products like Supremo FX and Forex Profit Launcher.
The software monitors markets and issues signals for orders on screen or via email. The strategy behind it is based on price action and it trades often.
As far as trading results, here is a screen-shot of a back-testing statement (click to enlarge):

Now, to be honest, I see some things I don't like in it. First of all the drawdown is a bit over 30% and the average loss trade is three times bigger than the average profit trade. Even though the presentation says the losses are few and spread out, it doesn't matter. You can't guarantee future results and just a few losses like that in a row can do a lot of damage. It's not a good thing that the system is capable of that.
Along with the Forex Secret Agent comes a pro version and trading robot based on the same signals as optional products for an extra price.
The fact sheet:
Cost: $97
Available: May 4th
Guarantee: Clickbank's 60-day 100% Money Back
Related Reading