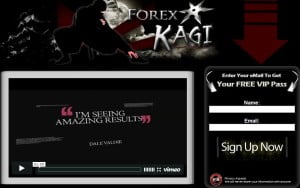 Forex Kagi is a manual trading system with an indicator based on Kagi charts, an old Japanese trading technique. The system combines an old strategy with the new Neural Adaptive Technology for an indicator to produce signals.
Forex Kagi uses the advantages of Kagi charts which are independent of time and reduce random noise of market changes. It doesn't use other indicators and is based on price action.
The system consists of the manual strategy and an indicator which gives trade signals with specific entry and exit points (75-80% accurate according to the author). It incorporates money management, risk management and risk reduction strategies.
The trading system works under any market conditions, with any currency pair and even stocks, bonds and commodities, it supports all broker types.
The system is explained in simple and easy to understand manner so that it's beginner friendly.
Some more details:
Cost: $97
Currency pairs supported: All currency pairs
Guarantee: Clickbank's 60-day 100% Money Back
Related Reading