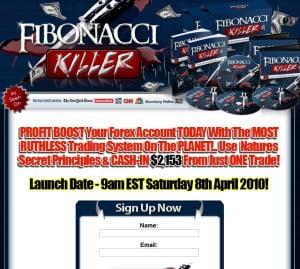 Fibonacci Killer is a manual trading system that works not only on Forex trading but also stocks and bonds. In Forex trading, it works with multiple currency pairs under any market conditions, it is platform and broker independent.
Fibonacci Killer comes in a form of an e-book and series of videos that walk you through every aspect of trading. It shows you step-by-step how to identify trades, how to use stop losses and how to determine exit points.
The system teaches the fundamentals, money management and how to spot winning trades to increase your Forex earnings. It was created by an expert with 15 years of experience in Forex trading and is based on a proven strategy.
As the title suggests, the system is based on Fibonacci principles and has a good risk/award ratio to minimize the risk. The manual and videos are designed to be beginner friendly.
Additionally Fibonacci Killer offers an indicator for an extra price to those who want to make identifying profitable trades with this strategy easier.
Other details:
Cost: $87
Currency pairs supported: All major
Guarantee: Clickbank's 60-day 100% Money Back
Related Reading