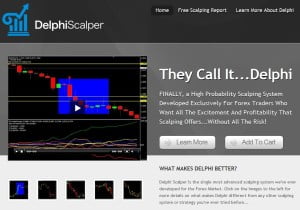 Delphi Scalper is a Forex scalping system that consists of training an several indicators made specifically for this system and strategy. Delphi is made by ForexImpact company, known for such Forex products as Correlation Code.
Delphi Scalper strategy is able to make 10-30 pips in profit per trade at a winning rate of about 70%. It provides very clear and exact entry, exit and stop loss rules for every trade. The system works by leaving you just to use the indicators and learn a few simple rules. The idea behind it is to eliminate the guesswork as much as possible and make Forex scalping simple.
Because it's a scalper, you can expect to make several trades per day and the goal is to spend as little time at the computer as possible. However the Delphi Scalper's indicators an rules determine the right trading times when you can use this strategy successfully.
On top of that, it works in one of two modes – easy or advanced. The system is build not only for the beginners to make their learning and trading easy, but also for advanced traders who want to put everything else a side and make the full use of the system. The advanced mode enables more precision and customization, while the easy mode is designed to specifically point the trader to the right direction.
How is Delphi Scalper different from most other scalping systems? There are 4 main differences:
It has a minimum of 10 pips (no less) per trade rule
It measures trades in minutes, not seconds
It trades on predetermined times of the day
It uses predetermined entry and exit rules, and predetermined stop losses
Some more details:
Cost: $997 (or a 3-month payment plan at $397 per month)
Guarantee: 45-day 100% Money Back
Related Reading