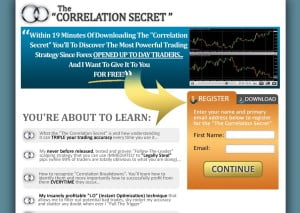 Correlation Code is a new and very unique Forex trading system. In a nutshell, the system is using the similarities and differences (correlation) between two currency pairs. The system is based on monitoring fundamental correlation between different pairs and as a result of testing 82 strategies based on this, Correlation Code is a set of 8 strategies that performed best.
What's important about this system is that unlike other expert advisors that are based on technical indicators, it is based on fundamental laws. The idea that different currency pairs are correlated is not new, that is obvious from simple observations. But what Correlation Code provides with its strategy is the predictable volatility that enables the traders to find trading opportunities with greater confidence.
It's also an automated Forex robot, so it can trade without user intervention, it's made to suit beginners as well as experts. In addition to that, it comes with training manuals and videos, as well as community forums.
There are no restrictions to currency pairs or time frames.
Some more facts:
Cost: $1997
Guarantee: 45 days 100% Money Back
Currencies supported: All
Updates: Life-time free