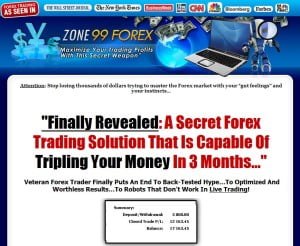 Zone 99 Forex is a new Expert Advisor based on SEPP market movement prediction technology and advanced money management strategies. It trades at a 72 to 81.68% winning rate.
The robot is fully automated, promises high accuracy and an ability to automatically adjust to market condition changes. It works with any broker, including ECN brokers with any account size. It also includes a protection against brokers, i.e. a "Stealth Mode" which hides the use of EA.
The provided back-test and live trading statements show how Zone 99 Forex should perform. One thing I immediately notice is the difference in the way it trades in back-test and live statements. The back-test seems to be using a 4 pip take profit consistently (except some cases where it modifies it to usually lower it) and a stop loss of 45. That's a terrible risk award ratio and very different from what I see in live statements. Hence, I would question why different settings were used.
The live trading statements look much better as far as the risk/award goes and consequently the size of winning trades vs the lost trades. The only problem is that they are for a period of 1-2 weeks and may not show the whole picture.
That means we don't get complete testing results prior to buying the EA and that's something to pay close attention to.
More details:
Cost: $127
Guarantee: Clickbank's 60-day 100% Money Back
Related Reading