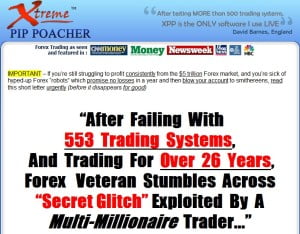 Xtreme Pip Poacher is a new multi-currency Forex trading automation software created by a Forex system developer with 26 years of trading under his belt.
The author Drew Collinson claims to have tested 553 EAs before developing his own and now using it in favor of the rest software.
Xtreme Pip Poacher prides itself with it's BDT broker detection technology which identifies and displays the trade slippage information that should help with trading.
As far as the results, the backtest summary offered on the site shows a very low drawdown of 1.27% but an average loss trade significantly higher than the average win. In the long run that describes a risky strategy.
The EA is fully automated and takes only 12 minutes per day to monitor it, works on MetaTrader 4 and with any broker on multiple currency pairs (EUR/USD, USD/JPY, GBP/USD and USD/CHF).
Additionally, it has an option to trade in manual mode.
Other details:
Cost: $77
Currency Pairs Supported: EUR/USD, USD/JPY, GBP/USD, USD/CHF
Guarantee: Clickbank's 60-day money back guarantee
Related Reading