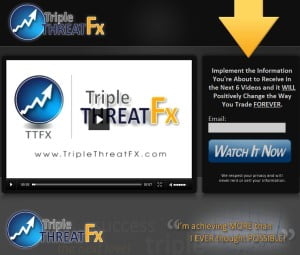 Triple Threat FX is a Forex trading course by a veteran Forex trader and coach Todd Brown. Besides teaching trading strategies, the course has a lot of focus and the trader's psychology and mindset – very important aspects that are often overlooked.
Some of the methods that Todd Brown teaches:
Market behavior from a macro perspective and its relation to market movement.
Anticipating market actions by identifying the trend, momentum, and trading range in multiple time frames.
The most effective way of trading support, resistance and bounces within a trading range.
Trading the openings from regular conditions to gap-ups, gap-downs and runaway gaps.
The importance of repetition and programming your mind to take action based on prediction.
Avoiding early exits from strong moves.
Trading high probability intra-day patterns, enabling you to trade in the right direction, and allowing to optimally size your positions.
Trading the divergence model.
The proper trade execution with entry and exit points, stop order placement, scaling positions and risk management.
Projecting the "Probable Range" to identify profit targets and quick pop trades.
Identifying trends with standard technical indicators, determining the "Trend Life" and "Projected Targets" using "Rules of Projection".
Different entry tactics for the best possible fills even in fast-moving markets, avoiding slippage.
Effective methods for spotting false signals and breakouts, how to avoid high risk setups.
And more…
Triple Threat FX is a big and comprehensive course, and the price of it is also accordingly big. The exact price wasn't announced yet but it'll be in the range of $3-$4k, which is definitely not for everyone.
Related Reading