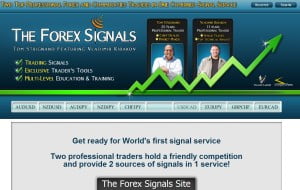 The Forex Signals by Vladimir Ribakov and Bob Iaccino (as of January 10, 2011 he's replaced Tom Strignano) is a unique Forex trading signals service where two expert traders compete who's gonna provide better signals. As a result of this friendly competition, the user gets two signal services for the price of one and each of them competing for quality.
The Forex Signals offers 5 membership packages, each different with the level of service it provides. The first four packages provide signals different number of currency pairs, indices and commodities, while the highest level package also includes personal mentoring.
The service provides signals for all currency pairs, metals, commodities, stocks and indices. You can choose what signals you will get by the membership package.
In addition to the signals, the service provides advanced tools and indicators for MetaTrader platform, training and education for different level traders – from beginners to advanced – as well as personal mentoring.
The membership packages are:
Junior package with 2 currency pairs at $97 per month
Trader package with 4 currency pairs at $197 per month
Senior trader package with 7 currency pairs, gold, oil and 2 indices at $297 per month
Chief dealer package with all currency pairs, metals, commodities and indices at $399 per month
Chief dealer package with personal mentoring at $997 per month
Related Reading