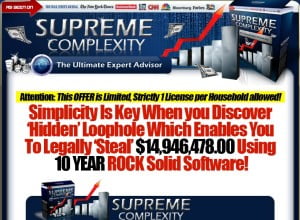 Supreme Complexity is an Expert Advisor developed by Certified Forex Trading (who recently brought to you Forex Kagi system).
The main idea behind Supreme Complexity is trading in sideways markets while still taking advantage of the trends. According to the developers, the markets are sideways 80% of the time that's why they've created complex algorithms that identify what price the markets are moving towards to trade under such conditions.
It also trades trends by taking advantage of small trends as well as long term trends.
The system also includes money managements, stop loss and take profit management, it works with all brokers including 5-digits and ECN brokers, and it works on 15 minute time chart with multiple currency pairs.
Looking at the proof statements, albeit they are only screenshots with no source to the statements, we can see a low drawdown (except one backtest that shows a 95% drawdown) and a significantly lower average loss than the average win (which indicates a low risk award ratio and low risk trading strategy in general). Thus it looks promising but its ability to get high drawdown on some occasions is a bit worrying.
More about this system:
Cost: $87/month (or $397/year)
Currency Pairs Supported: All major currency pairs
Guarantee: Clickbank's 60-day money back guarantee
Related Reading