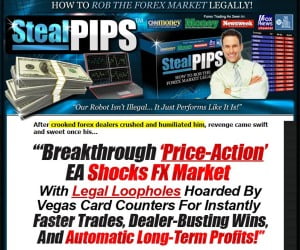 StealPips is a Forex robot created on the idea of diversification among short and long time frames. That means it works in two modes – trades frequently every day and trades safer in the long term by making less trades.
The diversification used in this EA doesn't end at the different time frames, it works on two currency pairs to increase the diversification even more.
Steal Pips system employs two proprietary algorithms – APAR and TULD. The former is an Automated Price Action Recognition is a set of algorithms that analyze and forecast short and long term price and market behavior. It doesn't use any indicators. The TULD algorithm (Trend and U-Turn Points Detector) is used to recognize market trends and identify market turning points.
In addition to that, the system is able analyze fundamental market scenarios and adjust to them automatically.
Other features are pretty standard for a Forex robot. It's fully automated, supports 5 digit and ECN brokers, includes broker protection, money and risk management system.
The back-testing results provided for StealPips, although it omits the drawdown or winning rate and it shows some considerable losses, the average win is higher than then the average loss during the period, and that's an indication of a well capped strategy. The live trading statements are also included but they are very short (1 week) to say much and don't even have a losing trade which would show how the EA deals with it. It is, however, obvious that the system moves stop loss to lock in the profit for each trade which indicates good risk management.
Some more details:
Cost: $97
Guarantee: 60 days 100% Money Back
Related Reading