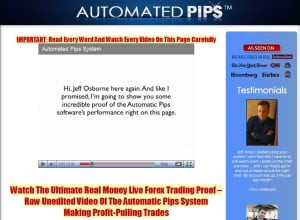 Automated Pips is a new Forex EA that puts forth its trading proof.
So let's look that those results. I've seen two trading statements both for EURUSD. The first thing to notice is that it doesn't use a stop loss or take profit, meaning the software "decides" when to open and close trades. Another thing to notice it's the trading frequency which is fairly inconsistent – it can make a few trades per day or skip weeks.
The average loss seems to be much lower than the average win and a good risk/award ratio. If this EA works out as good as it looks on paper, it can have potential, at least for a while.
Now, many people don't like upsells, Automated Pips actually has 4 of them. An EA Market Optimizer, a version of the EA for USDCHF, an advanced version and a manual version.
Other features include automated risk and money management, high spread protection and free lifetime updates.
More details:
Cost: $77
Currency pairs: EURUSD
Guarantee: Clickbank's 60-day money back guarantee