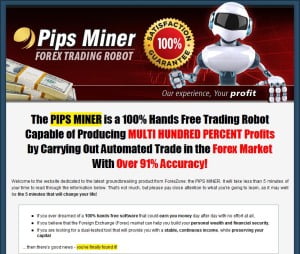 Pips Miner is a completely automated Forex trading software from Forexzone Ltd., a company based in London, UK. The developer of the software is important to consider, because you can tell what they have at stake. For instance, if a software is created by a little known or unknown at all individual, they have nothing to lose and they don't have to care if their software works right and if they provide good support.
A company like Forexzone, on the other hand risks their brand name should their software fail. It's a big plus for Pips Miner when deciding to invest in it.
This software was of course tested, backwards and forward. It has great claims as any Forex robot would. 91% success rate, 182% ot 766% return in as little as 7 months and so on and so forth. Let me just remind you once again, that you're not likely to achieve similar results, because given that these claims are true, they are achieved constantly tweaking the system. That's something that only the creators of the software can do to perfection.
Most of the other features are pretty standard. It trades EUR/USD, it works on MetaTrader 4, it's 100% automatic, it doesn't require you to do anything, just have an Internet connection. Although we all know that no sane person will leave it by itself with your real money, the least you will do is monitor its activity. Of course, knowledge of Forex trading will help to prevent it from the worst, should it happen (not implying anything).
What's unique about Pips Miner is that it has money management functionality, allowing you to set rules of spending which should ensure safe trading. In other words, you won't lose your shirt with it, no matter what happens. Also, it's one of few robots that really allows you to trade with as little as $50 and still functions.
Some cold hard facts:
Cost: Light Edition – €129, Standard Edition – €199, Extended Edition – €249
Currencies supported: EUR/USD
Updates: Life-time free
Should you try it? If you're not using any Forex trading robots and you want to try dipping your toes in it, or if you're not happy if the software you're using, Pips Miner is a great candidate. The least you can expect from it is not to waste your money due to the money management system, which is quite comforting especially if you're new to this.
Related Reading