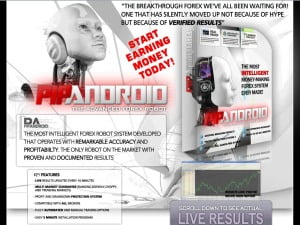 Pip Android is the "most intelligent Forex system" that promises remarkable accuracy and profitability. Most importantly, it will show live trading results to back up its accuracy, once it goes live.
Pip Android's main features:
Provides live results updated every 10 minutes.
Trades in different market conditions (ranging, sideway, choppy, and trending markets).
Has a profit and drawdown protection system.
Works with any broker.
Trades fully automatically, but can also be used to trade manually.
Provides easy installation.
The live trading statements provided show that Pip Android aims for about 35 pips take profit with the same stop loss and moves the stop loss to minimize the risk. And looks like it's catching a few mini trends every day. Granted the statements are only about a month old (Jan 5 to Feb 5 at the time of writing this), it does seem promising.
Some more facts:
Cost: $127
Guarantee: 30 days 100% Money Back
Updates: Life-time free
Related Reading