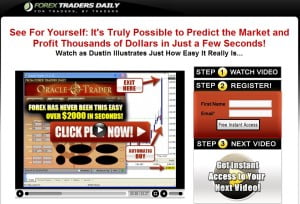 Oracle Trader by Forex Traders Daily is a Forex trading system – signals and auto trading software. It also includes Forex trading training.
Oracle Trader system is based on financial market news releases. It works on an idea that the market movement can be predicted based on how the release of important financial data meets its expectations. And because the releases take place at known times, it is possible to predict when the movement occurs.
The software then gets the news feeds of predicted data values and real values as they are released, compares the two and makes trading decision. It issues buy/sell signals and can execute trades automatically.
While you can follow the same strategy using the financial calendars and news casts, the market reacts very quickly and it is difficult to trade with this strategy manually. This is the main benefit of the Oracle Trader – it automates this strategy and makes it easy to trade.
Additionally the system comes with training, webinars and coaching teaching how to use the system and how to trade Forex in general.
The biggest drawback of Oracle Trader is the no refund policy, but the authors promise to work with every person to help them succeed if they struggle.
More details:
Cost: $2,470
Currency Pairs Supported: All major currency pairs
Related Reading