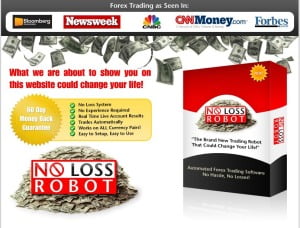 No Loss Robot comes out of the blue and announces that it can trade 100% successfully and 100% automatically. That's certainly an outrageous claim – I'm yet to see a system that is really flawless – that's impossible. Could it be a play on numbers? You be it is.
But first, the features. No Loss Robot has grown from a manual trading system which was based on trend spotting. The authors claim to have had great success with their system and they have decided to automate the process. As a result the robot is trend based too.
As the key unique feature of the system the specification lists the simultaneous monitoring of 8 different time frames. All the information helps the robot to detect trends with 100% precision, as stated. In addition to that, it adapts to different market conditions which play the most important part in trends, however no extra information about it is revealed.
Among other features, No Loss Robot has a built-in money management system, supports all currency pairs and works with any account size.
However, the trading statements reveal the real characteristics of this EA and where the 0% loss comes from. It's a play with numbers extraordinaire. You see, the monthly statements show closed profitable trades, which account for 100% success, but what the authors fail to mention is the huge floating loss which is not counted into the bottom line! If you take that into account, you get 95% success rate.
But that's not all. Since the negative trades aren't closed early enough and they are left eating up the account(!) the average loss trade is enormous. And that's a pity, because even with big floating loss, the bottom line is profitable at about 20% ROI.
Other characteristics show that "No Loss Robot" aims at about 150 pips Take Profit with about 20 pips Stops Loss. The risk/reward ratio in turn is ~0.13, which is reasonably small. However, many trades have no stop loss at all, which explains how the aforementioned floating loss is possible.
I can't but conclude that this robot isn't complete, since it doesn't cut the losses. Unless you consider it to be a semi-automated system where it's up to you to close the unprofitable trades.
Overall, I should probably recommend against No Loss Robot for its ludicrous attempt to fool us into thinking it's flawless. However, it has potential in the right hands, because despite such a big flaw it ends up profitable at the bottom line (from the statements provided).
Some more facts:
Cost: $149
Guarantee: 60 days 100% Money Back
Currencies supported: All
Updates: Life-time free
Related Reading