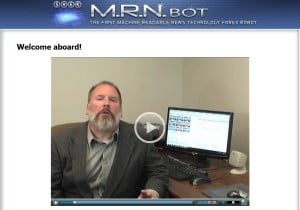 MRN Bot or "Machine Readable News" Bot is a Forex EA that uses a new technology to predict market movement.
To be exact, it is using data mining technology to collect data from Forex trading forums and news sites that would identify the mood in the market. Then it also checks this data against indicators and creates trades.
According to the report released before the launch of MRN Bot, this technology of web crawling of what people are saying on the internet to predict the market movement is based on the research done by the University of Indiana. One interesting thing about it is that this research was publicly released only on October 16th, and today is October 23th. MRN Bot creators are apparently reacting fast.
Anyway, it's an interesting technology and it will be interesting to see how it works out.
Other information about MRN Bot:
Cost: $97
Currency pairs supported: USDCHF and CHFJPY
Guarantee: 60-day money back guarantee by Clickbank
Related Reading