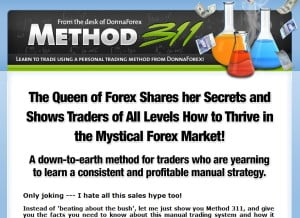 Method 311 is a manual Forex trading system by Donna Forex.
Donna Forex needs no introduction, she's one of the most respected experts in the Forex world. She's known for her great support and no-nonsense teaching.
As such, Method 311 is not hyped up like most other Forex products and you can tell that from the sales page which has no BS and only the facts about the system.
Method 311 is a system designed for MetaTrader platform and is a strategy selected by Donna based on the feedback from her clients. It is designed to be quick and simple to learn and enable a quick enough trading (but it's not a scalper).
The system trades EURJPY pair on 30 minute time frame and should make several trades per week. It has customizable risk, email alerts and interface.
Method 311 produces signals which give you a stop loss and take profit, and a trailing stop loss. It makes trading simple and also has the steps explained in the manual.
Other info:
Cost: $149
Currency pairs: EURJPY
Guarantee: 30-day money back guarantee
Related Reading