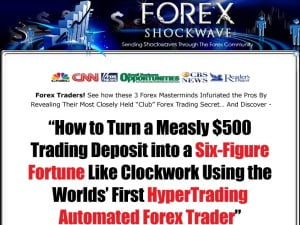 Forex Shockwave is a new Forex robot (Expert Advisor) for automated trading on MetaTrader 4.
The main benefit that the authors of this robot emphasize is the speed of trading. Forex Shockwave is said to be trading often.
The robot is using the Rapid Price Indexing, a price action analysis algorithm that identifies short term trading opportunities. It can trade any currency pair in all market conditions and has self-optimization feature built in.
From the few snapshots we can see that Forex Shockwave trades by catching the intraday trends. But since there are no full trading statements provided, not much can be told about the trading strategy.
In addition to the standard EA, Forex Shockwave has three upsells – an advanced version, monthly optimizations and study course with a manual trading system.
More details:
Cost: $97
Currency pairs supported: All major currency pairs
Guarantee: Clickbank's 60-day money back guarantee
Related Reading