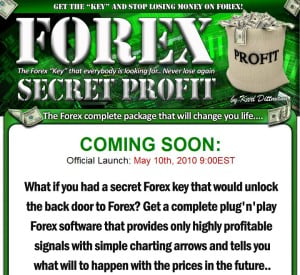 Forex Secret Profit is a Forex signals software by Karl Dittmann. The software provides simple and easy to use on-chart signals with a calculated stop loss and take profit.
The software works on MetaTrader 4 platform and displays signals in the form of red/green arrows on the chart indicating when to buy or sell. It also provides a specific stop loss (and trailing stops) and exit target. You can use it on any currency pair and any time frame. On average, Forex Secret Profit can produce 10 to 50 of these signals per day.
The software issues signals automatically after it's set up and after you add it to any chart you want. It averages 20 to 100 pips per trade at a 80-90% winning rate.
The most important aspect of Forex Secret Profit signals is that the stop loss and take profit makes a risk/award ratio of 0.3 to 0.5. That means the average stop loss is from 2 to 3 times smaller than the average take profit, and that means it's a well balanced strategy. In other words, it has a good potential to be profitable in the long run. It's a big plus considering the majority of the EA/signal software on the market use high risk to get great results in back-tests but fail in the long run.
More details:
Cost: $97
Currency pairs supported: All
Guarantee: Clickbank's 60-day 100% Money Back
Related Reading