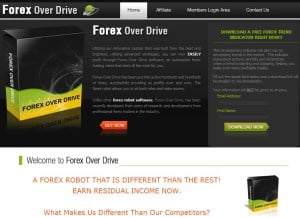 Forex Overdrive is a two-fold Expert Advisor, it follows a low risk long time strategy with a solid money management to trade for steady long time profit and a has a risky mode for faster trades.
By default it has the money management system on and the EA will try to steadily increase the lot size and grow the account over a long period of time with very few losses. And it gives an option to traders to increase the risk and trade frequently albeit there will be more losses.
Forex Overdrive system is based on advanced algorithms, has a built in money management and trade management system which enable it to achieve the results as displayed on the official website. Additionally, the software has a built-in broken protection system.
From the back-tests provided by the official website and the testing posted on ForexPeaceArmy we see that it's doing very well lately, with no losses in the past 2 months as of writing this. What worries me is the high risk it takes even with the default settings which are the "lower risk" settings. Some back-tests have a drawdown of almost 30% and while those are supposedly higher risk settings, the tests on ForexPeaceArmy site with default settings also have some stop losses and high risk/award ratio that would result in big losses if hit. That's something to watch out for in the long run, but so far it's doing pretty well.
More details:
Cost: $97
Currency pairs supported: EUR/USD, GBP/USD, USD/JPY, USD/CHF (EUR/USD and GBP/USD recommended)
Guarantee: Clickbank's 60-day 100% Money Back
Related Reading