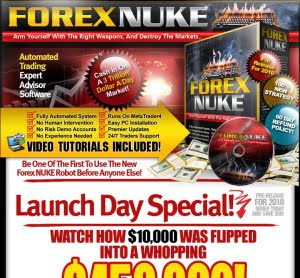 Forex Nuke is a new EA software advertised as EA built with a brand new strategy for 2010. The features of this robot are more or less the usual – low investment requirement, it works on MetaTrader 4 platform, it works on demo accounts, it doesn't require experience and has video tutorials to give you a start. I'll skip the details as they aren't that important as long as it works.
What really interests me are the trading statements which reveal a lot about the system. Forex Nuke makes trades with a 250 pip stop loss and only 45 take profit. Needless to say the risk/reward ratio is huge and it means that one loss can erase your last 6 profitable trades. In the long term this strategy is flawed as you can see, regardless of its success rate – the past results don't guarantee future success and only the characteristics that define the system can serve as an indicator of what to expect.
Hence, I wouldn't  necessarily expect long term success from Forex Nuke. Though, it should be worth attention in short term "while it works", if you think it's worth your investment.
Having said that, my attention was drawn to the fact that the system can be adjusted to lower the risk, so if you have some experience or the authors will be willing to help, there's a chance to fine tune it to work in the longer term too.
Some more facts:
Cost: $97
Guarantee: 60 days 100% Money Back
Currencies supported: EUR/USD
Updates: Life-time free
Related Reading