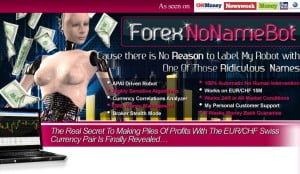 Forex NoNameBot is a completely automated Expert Advisor by Juliya Ivanov created to trade EURCHF on 15 minute chart.
The software works on MetaTrader 4 platform and implements the following technologies:
The APAI price action analysis algorithm, it determines the market changes and price movement.
HS (Highly Snesitive) trend analysis algorithms that determine important turning points and trend continuation.
Curerncy Correlation Analyzer that takes advantage of correlation between different currency pairs to improve accuracy.
Exclusive OWL (One-Way-Leverage) money management system that changes lot sizes in real time to increase profits and minimize losses.
And finally, it includes an email notification system that sends you notifications about its activity to your inbox.
Here's the Forex NoNameBot test on ForexPeaceArmy. It shows a 85% winning rate and 15% drawdown, but its average loss is significantly higher than average winning trade. While its performance seems good so far, it looks like its strategy is quite risky.
Some additional details:
Cost: $99
Currency pairs supported: EURCHF
Guarantee: Clickbank's 60-day money back guarantee
Related Reading