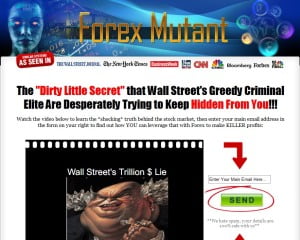 Forex Mutant is a signals software and an advanced manual trading system. The trading strategy behind Forex Mutant is said to be 90.3% and the authors have set a goal to not only provide the users with results but to also teach them trading.
The system is built with a notion that any beginner can trade better than a trading robot if they have a step-by-step system to follow. And this system provides that step-by-step guidance.
The process of trading with Forex Mutant can be described as follows. You get a signal form the software to open a trade with particular parameters, and following the manual trading strategy you look for other signals to close the trade (either for profit or to cut the loss).
I like the first impressions of Forex Mutant for it's not just another EA, but it actually aspires to teach the beginners to trade Forex. And given the small price as compared to other trading courses, it is very attractive.
Now to the bad things. I'm very disappointed that after reading the offer, I don't see any numbers of the Mutant's signals software. Numbers tell the whole story and not having them leaves us blind folded. Nobody likes to buy while being blind folded so it just leaves me wondering why would the seller not provide me with the most important information needed to make a decision.
If Forex Mutant was an Expert Advisor, I would say stay away from it. The only thing that saves it is that it's a manual system and that it aims to teach trading Forex. That combined with a relatively small price for a trading course, makes me want to give it a chance.
Some more facts:
Cost: $97
Guarantee: 60 days 100% Money Back
Currencies supported: EUR/USD
Updates: Life-time free
Related Reading