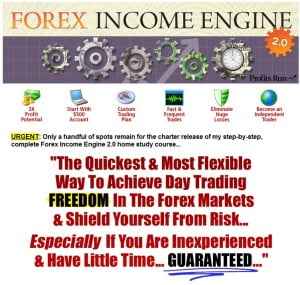 Forex Income Engine 2.0 is a limited release of a Forex home study course. The course caters to beginners as well as the advanced traders. In a nutshell, the whole course consists of:
Screen capture videos explaining Forex in general and Forex Income Engine 2.0 system in depth.
Manuals for each video.
Advanced support desk.
Community of students like you.
The training can be further broken down into the trading systems that essentially this product is all about. There are three – Ignition, Overdrive and Spring trading methods. Each method is explained in video, in manuals as well as step-by-step blueprints. The process is broken down into the important steps so you can easily follow them – identifying the trades, figuring out the stop loss and exit points, and managing risk.
The beginners aren't thrown into the battle field alone – every detail is explained – how to use charts, how to use standard indicators as well as those provided with Forex Income Engine 2.0 system, as well as how to select a broker and other important aspects of Forex.
You can check out the preview of the videos to get a glimpse of what the course is like on the official website.
The main benefit of  Forex Income Engine 2.0 is its comprehensiveness and user-friendly nature. The training material is well thought out and delivered in a way that you can learn at your own pace no matter how much time you have to dedicate to it. The course is laid down in a way that you can start trading as soon as possible, without having to sit through the long and boring theory.
The beginners will find perhaps all training they need, while advanced traders will reinforce their knowledge as well as get 3 systems to trade with.
Also worth mentioning, is the unique guarantee which on top of the standard "money back" adds an extra year of email support for those who struggle to double the investments in the first 3 months.
But as a major drawback, I would call the price of this home study course. $1,997 is a lot of money especially for the beginners, and with all the Expert Advisors on the market starting at as little as $97 or less. On the other hand, if we consider the value the system brings on the table by providing you not a short time quick profit opportunity but a long term education and foundation for your Forex trading business, this training program may be worth it.
Some more facts:
Cost: $1,997 (alternatively, 3 monthly payments of $733)
Guarantee: 90 days 100% Money Back
Currencies supported: All major currencies
Updates: Life-time free
Related Reading