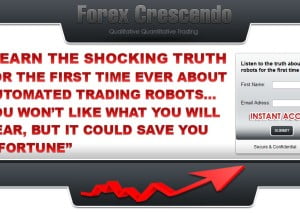 Forex Crescendo is a global approach to the market – it trades two currency pairs (GBPUSD and GBPJPY) at the same time with a portfolio-like approach to trading.
Forex Crescendo EA is based on a price approximation algorithm and automated money and risk management.
Let's look at the numbers. What I've seen is a trading statement summary from trading since February 2010 until now (September 2010), and it shows a winning rate of 77%. The average profitable trade, however, is lower than the average loss trade by about 25%. The author says in his report that a good EA should have the average loss no more than 5 times larger than the average win, so in that context it should be perfect.
In my opinion though, the average profit should always be equal or higher than the average loss should the EA be profitable in the long run. It's the most basic risk management and common sense really. So the author's statements like that are quite frankly scary. But that's just my opinion.
Other info about Forex Crescendo EA:
Cost: TBA
Currency pairs: GBPUSD, GBPJPY
Guarantee: Clickbank's 60-day money back guarantee
Related Reading