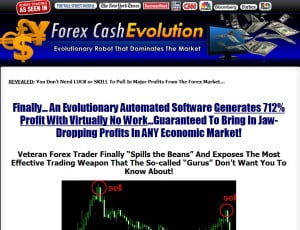 Forex Cash Evolution is, to quote the official website, the only system that has been tested for 7 years. Its algorithms enable the EA to trade in varied market conditions – trending and non-trending, volatile and non-volatile.
Like most other Expert Advisors, Forex Cash Evolution is 100% automated and doesn't require any trading knowledge (although having some knowledge is always an advantage). It also has an advanced money management strategy built-in to minimize the risk.
There's no minimal deposit required by the system, it works with any broker running on MetaTrader (4 and 5 digits alike). And as a bonus they give you some Forex training material and extra indicators.
The live statement provided on the website doesn't tell much – it only has a few trades and those from last month.
The back testing shows more interesting things, you can tell a lot more about how the system works. For instance, it seems to be using a dynamic stop loss which on average is kept at the level of take profit (which varies from 7 to 20 pips and more) – that does make sense. It also seems to be scaling the positions as the account grows.
Must admit it looks tempting and might be worth to try.
If you've already tested it, comments are welcome.
Some other facts:
Cost: $97
Guarantee: 60 days 100% Money Back
Updates: Life-time free
Related Reading