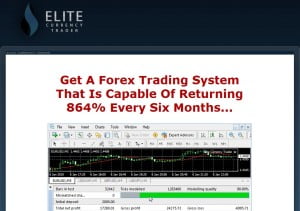 Elite Currency Trader is a Forex robot that doesn't try to lure us with fancy big names for strategies or algorithms it uses, it simply provides a high modeling quality back test results – as a screen shot and on video.
This no-nonsense approach does add to the software's credibility – I'm always a fan of simplicity, if it works, there's no need for bells and whistles to hide the deficiencies (which is the case with most EA developers which do that).
The back testing results look fairly good – the 6 month period on M5 chart shows 114 winning trades with 94.74% winning rate, 864% profit and only 5.68% drawdown.
However, I see some bad sides too – an average loss is significantly higher than the average profit, which is also evident from the chart. That means a possibility of a much higher drawdown in case the market changes (which it will) and the winning rate goes significantly down. The solution is the updates, which the developers claim to do frequently.
The current testing report at Forex Peace Army shows a similar performance to the back testing so far.
All in all, Elite Currency Trader looks like one of the better EAs released recently.
Some more details:
Cost: $97
Guarantee: 60 days 100% Money Back
Supported currencies: EURUSD
Updates: Free life-time updates
Related Reading