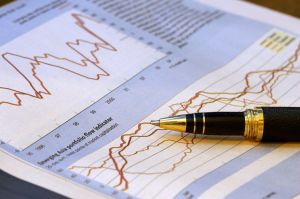 This is a very simple breakout strategy. This simple breakout strategy uses only a line chart and RSI indicator. Line charts are the most simplest of charts. So, when you trade using this simple breakout strategy, you don't need to get confused with candlestick patterns.
Line charts just shows the closing price of each bar. So, just switch to the M15 line chart on metatrader when using this strategy. Get a little bit familiar with the concept of support, resistance and the trendline. Now, here are the rules to apply this strategy:
Support is broken below or resistance is broken above and the RSI breaks below the 50 line or above the 50 line. RSI break above or down the 50 line is very important. It can happen that the support or resistance is broken earlier and the RSI 50 line is broken a few bars later or the other way round, both are valid signals as long as the price action is above the resistance or below the support when you take the trade. When this happens, it means a big move something like 20-50 pips is about to take place.
Now, you can easily draw a trendline on the line chart by connecting the bottoms and in the same manner draw a trendline on the RSI indicator as well. When both the trendlines are broken, it means a big move is about to take place. This simultaneous break of the trendlines is a much more stronger signal than the break of the support or resistance.
So, this is it! This is a very simple breakout strategy that needs only two events to occur almost simultaneously that is a break on the line chart and on the RSI indicator. Place the stop loss above the most recent high in case of a long trade or below the most recent low in case of a short trade. Take profit at the next visible support or resistance. Expect to make 20-50 pips after the breakout. You can practice this simple breakout strategy on your demo account on the 15 minutes charts on the following pairs EURUSD, GBPUSD, EURJPY and USDCAD.
Related Reading