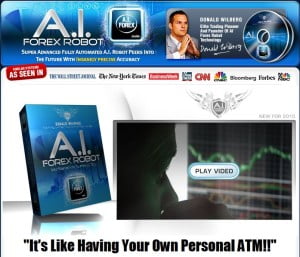 The AI Forex Robot is another expert advisor that claims outstanding results by using Artificial Intelligence technology. Once again though, there's no more detail about how it implements the AI and how it makes the robot better.
Besides the AI, this Forex Robot has an advanced stop loss, an advanced take profit, it works in auto and manual mode, it comes with Forex trading course (good for beginners who want to learn Forex), 24/7 support and easy installation.
The testing results provided by AI Forex Robot is a bliss. It would seem such a trivial thing should be common sense, but many software providers fail to provide the results and expect you to buy pure promises. In this case, we have the numbers, which are as follows.
The results provided are for two risk levels. The higher risk level has an average risk/award ratio of 2, which can only be any good in short term (that's the idea), while the low risk results have the ratio of 0.5, that's what I'll focus on. The winning percentage is a bit over 77%, which with a risk/award of 0.5  pretty confidently indicates the system to be profitable in the long term.
That means beginners can trade with low risk, while the experts can play with the system and its settings to achieve the performance of their liking.
Overall, the A.I. Forex Robot has strong numbers to back up its performance. It's worth to note that I don't have a chance to say that about a robot very often.
Some more facts:
Cost: $97
Guarantee: 60 days 100% Money Back
Currencies supported: EUR/USD
Updates: Life-time free
Related Reading