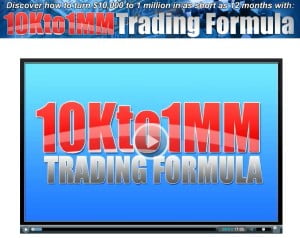 10K to 1MM Trading Formula by Henry Liu is a DVD video Forex trading course teaching one system that has a goal to take you from $10,000 to $1 million in one year.
Whether that is realistic is a good question but if the system works to a profitable level, no-one will complain. The system taught in videos by Henry Liu is based on fundamental news trading and consists of a signals service that you can receive via SMS, and a good money management strategy. That, according to the author, is enough for anyone to trade successfully.
The course takes place in 12 stages and besides the DVDs you receive, there are online training videos released every two weeks. With each stage the course aims to take the student closer and closer to the goal.
More about this course:
Cost: $497 + $67/month for the signals (first month free)
Currency Pairs Supported: All major currency pairs
Guarantee: 30-day "no questions asked" money back guarantee
Related Reading