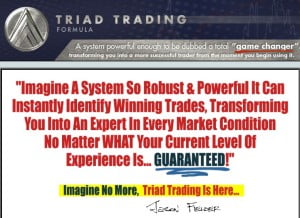 Triad Trading Formula by Jason Fielder is a Forex trading system consisting of several trading strategies for beginners and advanced traders alike.
Triad Trading Formula gets its name from its ability to trade in 3 types of market – trending, choppy and breakout markets. It's designed to adapt the trades to whatever the current market is.
The system consists of these trading strategies:
Swing trading – a strategy that takes 10 minutes per day to set up and adjust, and is able to produce near passive income
Laser Scalping – a scalping strategy for short term profits
Trend Finder – a strategy to identify and trade trends
Squish Squash – a strategy for trading in choppy markets
Target Breakout – a strategy for identifying breakouts
Each strategy is explain with step by step instructions and examples. The instructions include the exact entry and exit conditions, as well as money management rules.
The Triad Trading Formula package comes in form of DVDs and manuals to your door (it's not a digital product), and it also includes a membership site with support and community of the Triad Formula owners with extra resources, videos and extra trading strategies.
More details:
Cost: $1,997 (or three monthly payments of $797)
Currency pairs supported: All major currency pairs
Guarantee: 45-day money back guarantee
You may also be interested in:
If you have experience with this product, please leave your feedback or review below. Help others to decide, every entry helps.