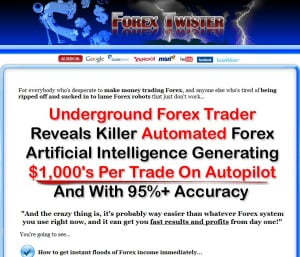 Forex Twister is new long term Expert Advisor that among its unique features declares a 95% success rater and Artificial Intelligence under the hood. The robot works with all major currencies and any type of Forex broker that works with MetaTrader 4 platform.
It also has money management system which allows you to enter your own rules as well. Risk management  seems to be the strong side of Forex Twister, which is good to see because I can't say that about all EAs. Let's look at the numbers.
While there aren't many details about its Artificial Intelligence and how it works, we can see the Twister's performance. It trades with an average stop loss of 86 pips and take profit of 326, which accounts for a risk/award ratio of an average of 0.27. Considering that the lost trades, as reported, is only 5%, this makes the strategy behind this robot one of the best out there. Why? Because it would take almost 4 consequent lost trades to lose the profit of the last successful trade, and the chance of that happening is low (albeit there's always that chance). I'm pleasantly surprised.
Forex Twister has made a strong statement which seems to have basis at least in theory. Having in mind that it costs like your average EA, I think it's well worth a try.
Some more facts:
Cost: $97
Guarantee: 60 days 100% Money Back
Currencies supported: All major currencies
Updates: Life-time free
You may also be interested in:
If you have experience with this product, please leave your feedback or review below. Help others to decide, every entry helps.