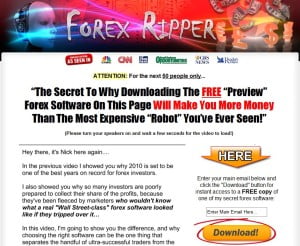 Forex Ripper is a Forex robot for scalping and day trading. On average it does 2-3 days and the authors claim high accuracy. Forex Ripper is based on a sophisticated system that analyses price patterns, indicators and multiple time frames.
The system has moderately high targets with a balanced stop loss (about 95 pips) which gives it the potential to be profitable in the long run. For this reason it claims to have a small drawdown and cannot be seen by the brokers as a scalper. That means it's possible to trade with this EA even with those brokers that don't allow scalpers.
The advanced EA which comes with Forex Ripper is designed as a long term robot. This system analyses markets in weekly and monthly time frames. Due to its long term nature, it is also safer to trade as it makes only 3-4 trades per week with more accuracy. In addition the advanced system can be configured to trade during specific hours.
The authors claim that the basic robot and the advanced EA should be used together – one for daily profit and the other for long term profit.
Some more facts:
Cost: $97 (+$77 for the advanced EA)
Guarantee: 60 days 100% Money Back
Updates: Life-time free
You may also be interested in:
If you have experience with this product, please leave your feedback or review below. Help others to decide, every entry helps.