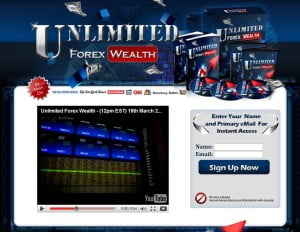 Unlimited Forex Wealth is a manual Forex trading system and trading course consisting of comprehensive manuals and video tutorials. The course covers everything from learning to use charts to advanced strategies, risk management and even controlling your emotions.
Unlimited Forex Wealth is a complete course for beginners and experienced traders alike. The course will teach you how to set up the charts and identify the entry points, how to manage your positions and how to find exit points, what stop losses to use. It includes a few strategies that are each detailed in manuals and videos. The strategies are designed the way that allows you to spend only 10 minutes every day to trade with them.
The videos show exactly what and when to do, what positions to open and when, when to close them, everything is detailed step-by-step.
Additionally you will learn risk management as well as controlling your emotions that are often guilty for trading mistakes. You will also get an insight into winning patterns that according to the authors are able to give as much as 8,000 pips per trade.
Some more details:
Cost: $97
Guarantee: 60 days 100% Money Back
Related Reading