So the last trade didn't go exactly as I expected and the EURUSD didn't reach my target before it bounced back down. I did, however, move the stop loss to break even when the price was up.
Following the same strategy I've now opened a position at 1.2499 with a T/P 1.2415 and a S/L 1.2580 as I expect the pair to continue to plummet at least until the upcoming European summit.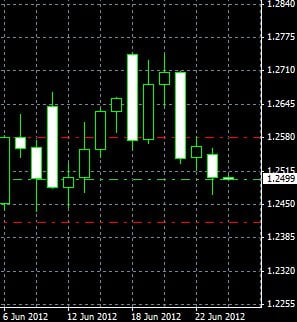 Update (June 28th): The trade was successful as EURUSD has hit the T/P at 1.2415 making for a 84 pip gain.
Related Reading