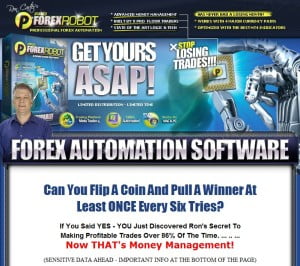 Pro Forex Robot is a fully automated Forex Expert Advisor for MetaTrader 4 platform that works with all major brokers.
The EA is built to trade four currency pairs – EURUSD, GBPUSD, USDCHF and USDJPY on a default time frame of 1 hour. The system is equipped with risk and money management, high spread protection, and as most EAs for MetaTrader 4, it's easy to install and use.
A lot of attention the authors give to money management, however it is also a weakness of this system, in my opinion. It's using the Martingale strategy which basically means increasing risk as you lose (in hopes to recoup the losses with the next trade). The comparison with gambling is also unsettling, even though they insist that it's used metaphorically – why use it anyway if the strategy is good? My point is that it's a very flawed money management that will wipe out your account sooner than later. Fortunatelly, there's an option to turn it off.
The up side of this EA is a good risk to award ratio. The backtests show a consistent use of a 1:1 stop loss and take profit, which is a sign of good trading strategy.
Some more details:
Cost: $97
Currency pairs supported: EURUSD, GBPUSD, USDCHF and USDJPY
Updates: Free updates for 20 years to come
Guarantee: Clickbank's 60-day 100% Money Back