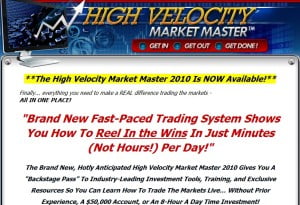 High Velocity Market Master is a trading system and video course by NetPicks Trading for beginners and advanced traders alike. It works with Forex, stocks, futures, and options markets.
High Velocity Market Master offers a trading system with exact entry and exit rules and easy to follow step-by-step instructions. It is accompanied by a set of custom indicators and a course explaining how it all works.
The videos explain the system and trading in an easy to follow step by step manner. Additionally, extra support, manuals and coaching is available.
The trading system itself is designed to be simple and easy to follow, to take out all emotions out of equation, have very specific rules and to be able to work under any market conditions. The custom indicators that are part of the system do most of the work so the trader only has to follow a few simple rules.
The outline of the whole package is:
Custom indicators updated for 2010
Video course covering everything from trading basics and fundamentals to appying the HVMM system
HVMM trading manual that lays down the entire trading system and strategies
Guide to markets and timeframes with examples of charts and trading setups
Access to HVMM Owner's Club with extra resources, training, webinars, coaching and more
Modules for Forex & Futures markets with a special system for them
Ultimate Day Trader System
More details:
Cost: from $2497 (payment plans are available)
Trading Instruments Supported: All major currency pairs, futures, stocks, options
Guarantee: 30-day money back guarantee