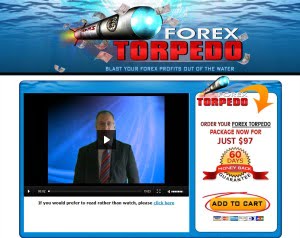 Forex Torpedo by FTS (known for other products like Forex Decimator and Forex Enforcer) is a new Forex robot designed to work in multiple market conditions – volatile and non-volatile, trending and non-trending. The artificial intelligence technology used in this robot allows it to predict the future rather than rely on past data.
Once released Forex Torpedo promises to show live proof to back up its performance. From that proof we'll be able to see what the software is capable of in more detail.
Among other features we see a pretty common list, such as that it's easy to install and use, it's fully automated, it has money management system built-in to minimize the risk, support that responds within 24 hours and so on.
Other details:
Cost: $97
Currencies supported: All major
Guarantee: 60 days 100% Money Back
Updates: Life-time free