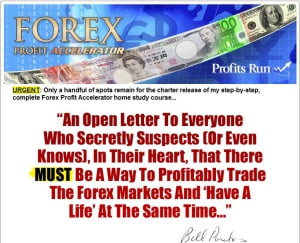 Forex Profit Accelerator is a trading method by Bill Poulos (also see Forex Income Engine 2.0) that is based on 4 golden rules which say that in order to work, a Forex trading method has to be complete with entry and exit rules, must include risk, money and portfolio management, must be based on technical analysis and must take less than 20 minutes per day to trade with after learning it.
Bill Poulos believes that simplicity is key in Forex trading. Using too many indicators may be not only overwhelming but also misleading and can cause wrong decisions. It's enough to have a few simple but powerful indicators to make good decisions. That's what Forex Profit Accelerator stands on.
The course is a physical product that arrives to your door in a box. It includes 7 CDs with videos, manuals, 4 trading blueprints, and a quick start guide.
The video CDs cover:
The basics of Forex Profit Accelerator, recommended currency pairs, trading examples
Four trading methods with lots of real trading examples – Instant Pip (quick 1-2 day trends of 40-100 pips), Pip Maximizer 1 (1-3 week swings of 300-500 pips), Pip Maximizer 2 (same as the 1st but with different entry strategy) and Pip Reversal (taking advantage of market divergence and trend reversals for 100-300 pip gain) methods
Risk and money management
Bonus CD with the basics for Forex beginners
The manual is a 160 page reference that goes together with the CDs. It contains the slides, charts, etc.
The trading blueprints are step by step guides for each of the 4 methods. You can used them as the cheat sheets to easily identify, make and manage trades with each method.
On top of it all, there's the quick start guide that helps you get through this big course without getting overwhelmed.
In addition to what you receive in a box, there's a 1 year access to the student support desk, membership website and more online videos.
Some more details:
Cost: $1,947 (with an option to pay in 3 monthly installments)
Guarantee: 90 days 100% Money Back