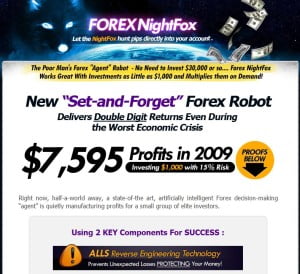 Forex NightFox is an automated Forex trading system which has two unique aspects to it. It has a sophisticated money management system and it works in Asian markets. While there's not much information about how it works in these markets (since the proof of results is in the main currency pairs, such as EURUSD and EURGBP), but I think it does that by trading at specific times when the Asian market is active. In other words, it's built to trade at specific times of the day.
The money management system is built in a way to manipulate the leverage and risk according to success of the trades. If the system makes several successful trades, it ramps up the leverage, and if it fails, it goes back to lower risk.
When it comes to the risk, Forex NightFox works with a risk of 10%-20% of the position value. It makes 3-4 daily trades on average with a target profit of 1-5 pips and a stop loss at about 30 pips. As you can see, this robot is taking advantage of very small movements under slow market conditions. This is where the "Asian market" idea comes into play.
In addition to all that, the system includes a broker protection system which isn't just "under the hood". It gives you very specific tools, such as broker change alert, which gives you a warning whenever spread manipulation is detected. That's a useful tool to have.
In short, I would call Forex NightFox a scalper of small market movements (which happen during the night US time, that's probably where the name "Night Fox" comes from). It is a feasible strategy considering that at such a low velocity, it's hard to lose your account, regardless of the risk levels.
Some more facts:
Cost: $127
Guarantee: 60 days 100% Money Back
Currencies supported: All
Updates: Life-time free